Jay Capperauld has been commissioned by the Glasgow School of Art Choir to compose a new choral work with lyrics from Edwin Morgan's poem, "The Unspoken".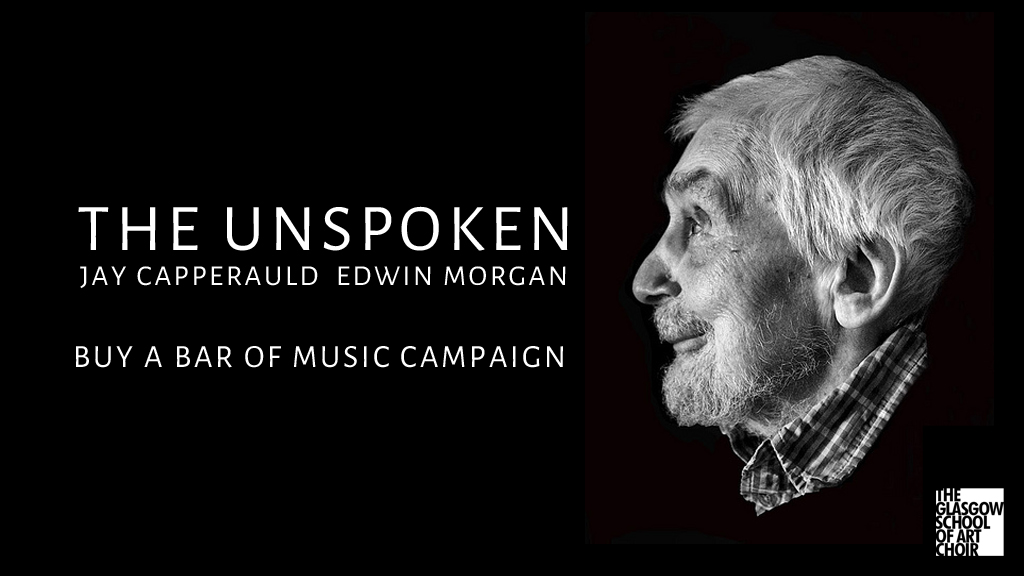 Music is famed for being the most sociable of the arts: anyone can enjoy being part of an ensemble (even without formal training) and anyone can appreciate a performance as an audience member. In the Glasgow School of Art Choir our Musical Director firmly believes that, whilst not everyone has the singing voice to be a soloist, everyone has a voice worthy of being in a choir. Everyone can sing. Throughout our development over the past five years, people have been consistently astonished that a choir which performs to such an amazingly high standard is made up of singers who are non-auditioned (some of whom cannot read music), but it's the truth.
If performing a piece of music can be such a communal, all-inclusive act, and listening to a choral piece can be too, why can't commissioning a new work involve a large number of like-minded individuals? We want to prove that it can.
The Glasgow School of Art Choir has commissioned Scottish composer, Jay Capperauld (one of Scotland's most exciting and respected young composers), to compose a new choral work for the ensemble, which will be premièred in Glasgow in May 2018. The commission will be Jay's first choral composition for chorus and we are thrilled to have a chance to be part of the professional development of such an innovative young composer.
Lyrics for the work will come from the final stanza of Edwin Morgan's love poem, "The Unspoken". Morgan is a poet of particular significance to Glasgow, and indeed, to Scotland, and we are delighted Jay has chosen this text for his new work. Carcanet Press Ltd. – publisher and holder of the rights to Edwin Morgan's poetry – has granted permission for the poem to be set to music by Jay.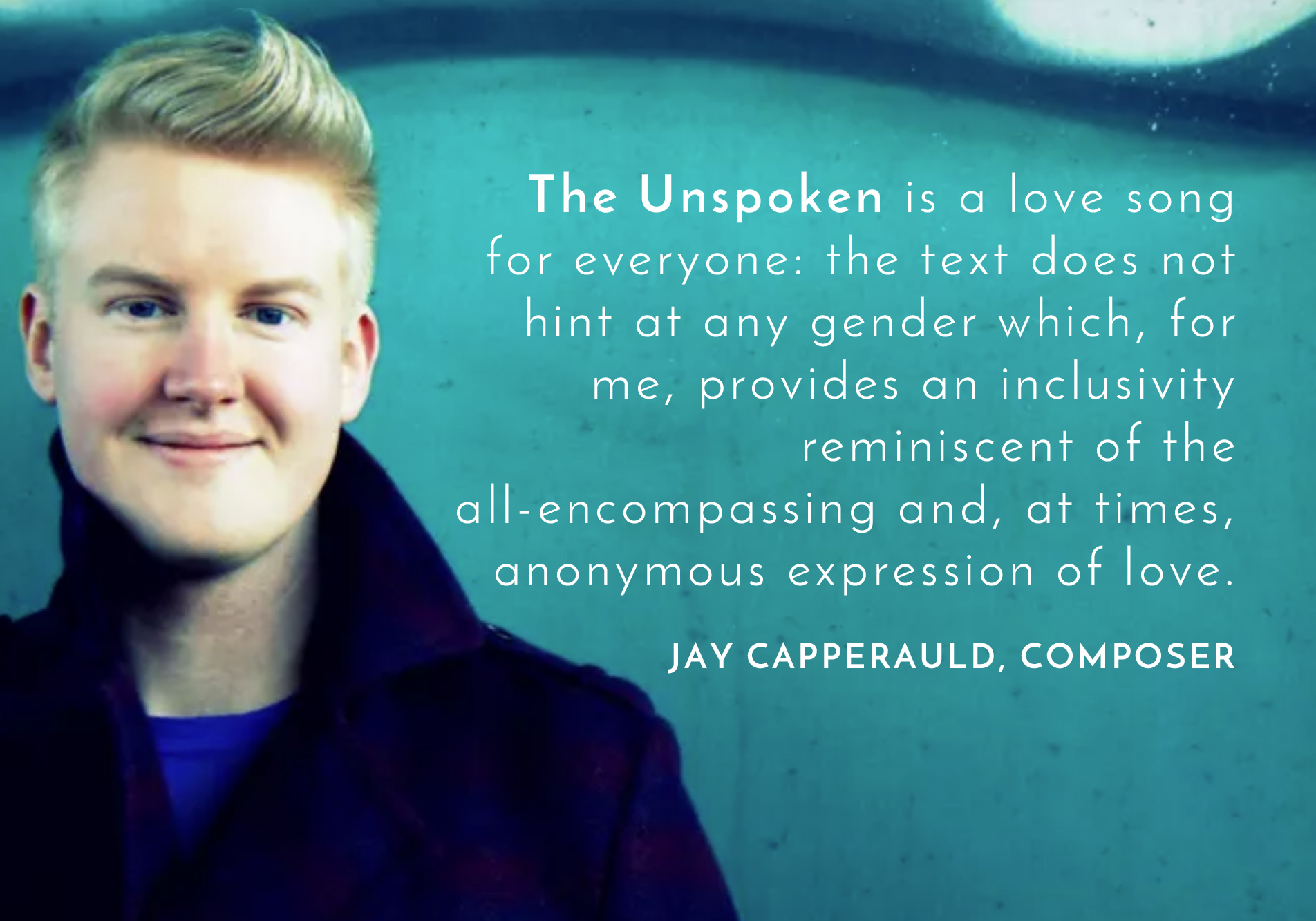 In order to commission "The Unspoken" we have launched our Buy a Bar of Music Campaign. We are asking choir members, audience members, friends, supporters and anyone else who values the unique role that music plays in our society, to support this new choral work through an innovative funding scheme.
Almost all music (from Bach to Bacharach to Beyoncé) is made up of bars of music – defined portions of a set duration which tie through each of the voice parts – from the highest Soprano to the deepest Bass. All the bars combine to make up the work. The more bars, the longer the piece etc.
For as little as £10 you can support "The Unspoken" commission and buy a bar (or bars) of music: if enough people buy enough bars we will have worked our way to the end of (and reached the required funding to meet the artistic costs of) the work. When you buy a bar you can pick which voice part you would like to support (maybe you fancy yourself as a Pavarotti and want to support the Tenors?) or you can leave your bar free to be assigned to whichever part is most in need of support. Whichever option you choose you will play a huge part in helping us to realise this exciting new commission, and help to make musical history in the process.
Throughout the Buy a Bar of Music Campaign we will post updates on this page and our social media profiles charting the success of the campaign, showing our supporters the progress of bars 'bought' in relation to the overall work: which vocal part will be fully supported first??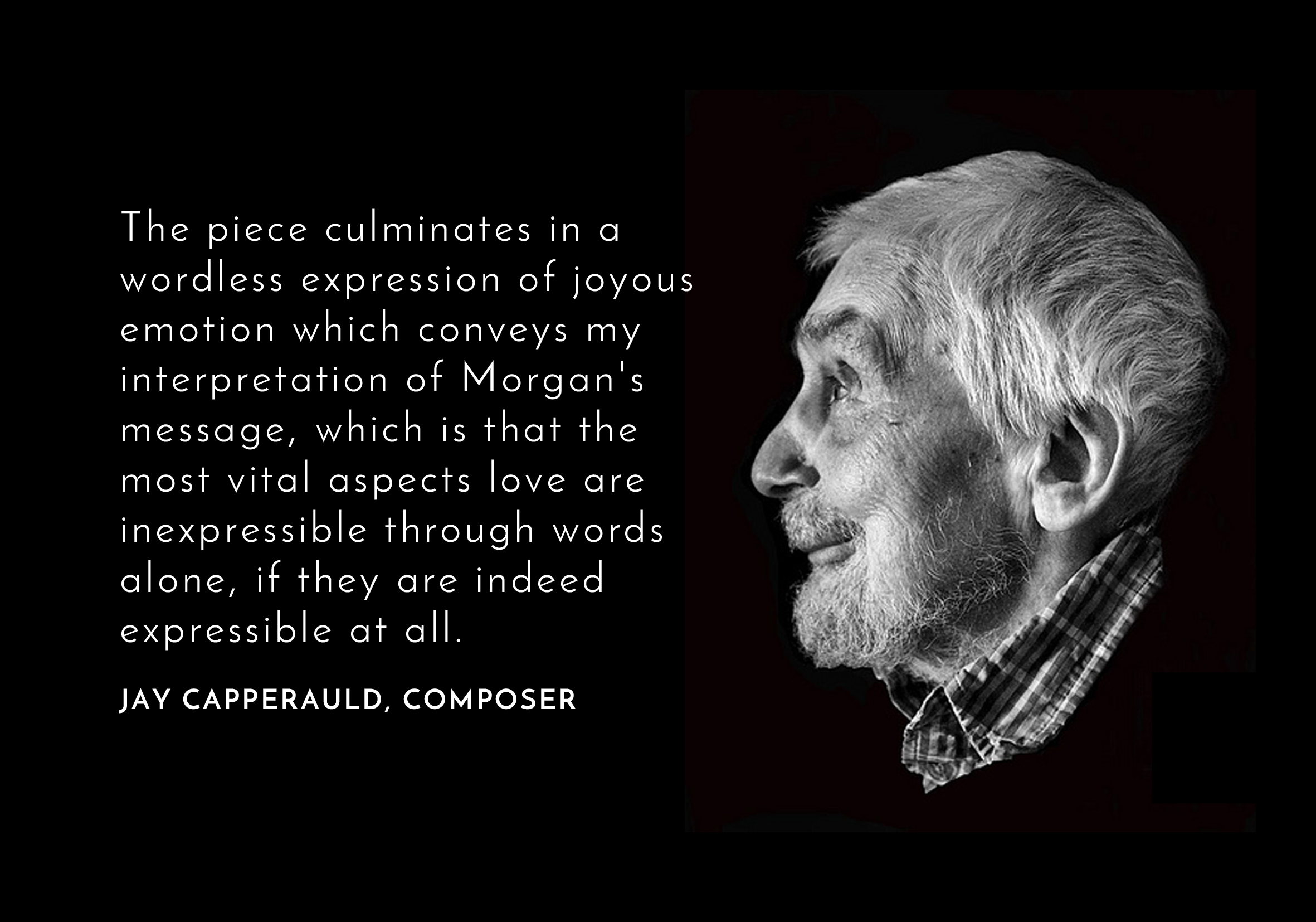 Follow us on Facebook, Twitter or Instagram to stay up to date, or, better yet, why not join in the discussion and use #BuyABar to tell your friends about the campaign? If we are lucky enough to receive more support than is required for "The Unspoken", and more bars are bought than are contained within the final piece, we will put the remaining funding towards the ensemble's next commission. We have now commissioned five new works in five years and we are committed to continuing our support of contemporary composers: your support might help us not only commission Jay Capperauld, but also to commission another composer in the near future.
Please note that Kickstarter operates an 'all or nothing' policy regarding funding: if we are lucky enough to receive more support than is required we will receive all the funds we raise. However, if we don't quite reach the required target (shown at the top right of the funding page) and not enough bars are bought, we won't receive a penny.
Click here to be taken to the campaign page.