On Sunday 21 September 2016
the Glasgow School of Art Choir
appeared in
The Sunday Herald's
weekend publication,
Life Magazine
. The feature article- written by one of our members, Richard Walker- told the story of how Richard battled his fear of singing in public by joining the ensemble, but also dealt with a universal truth; that most people worry they are not good enough or talented enough to participate in many aspects of life.
You can read the full article by following this link or by reading below.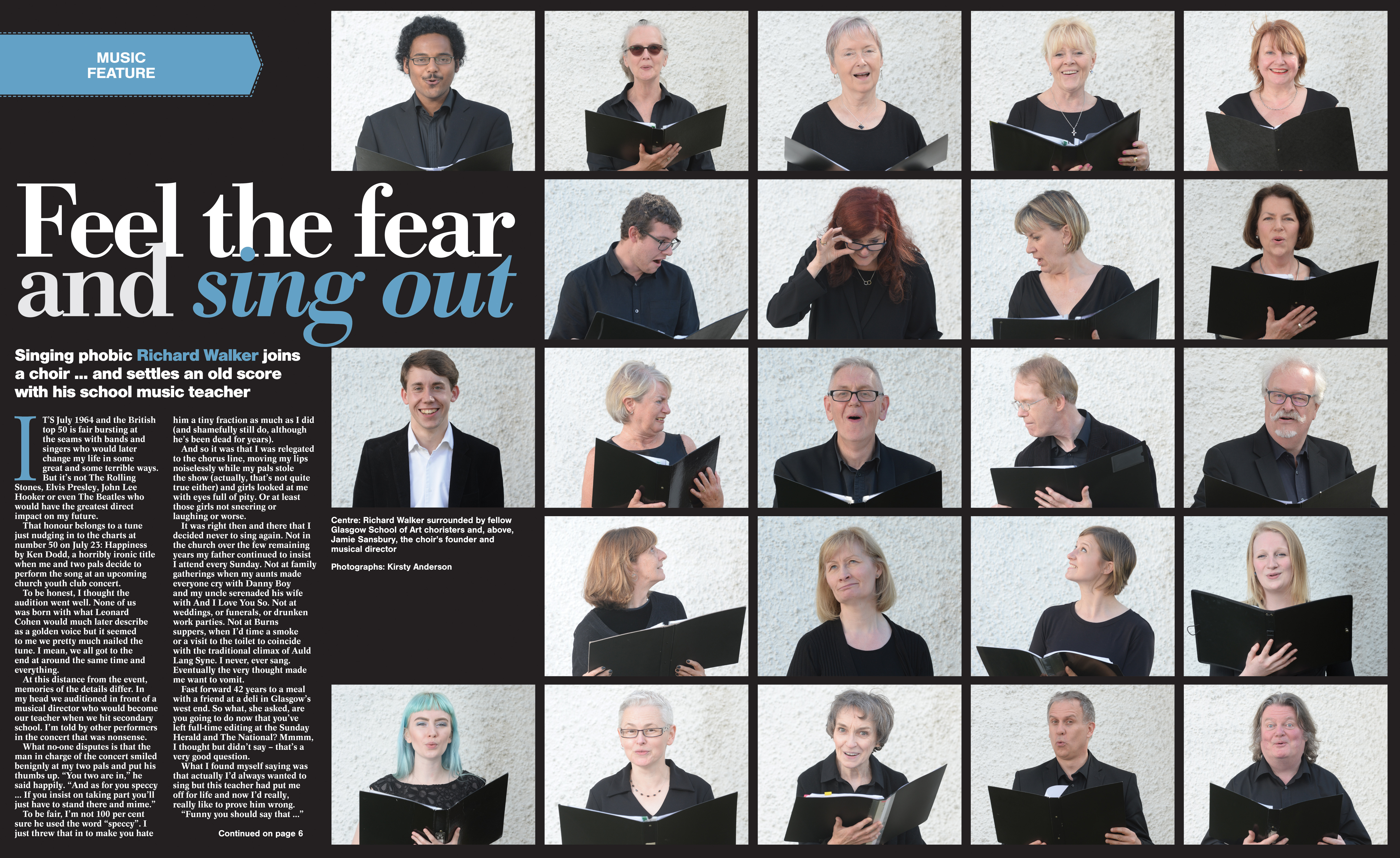 "It's July 1964 and the British top 50 is fair bursting at the seams with bands and singers who would later change my life in some great and some terrible ways. But it's not The Rolling Stones, Elvis Presley, John Lee Hooker or even The Beatles who would have the greatest direct impact on my future.
That honour belongs to a tune just nudging in to the charts at number 50 on July 23: Happiness by Ken Dodd, a horribly ironic title when me and two pals decide to perform the song at an upcoming church youth club concert. 
To be honest, I thought the audition went well. None of us was born with what Leonard Cohen would much later describe as a golden voice but it seemed to me we pretty much nailed the tune. I mean, we all got to the end at around the same time and everything.
At this distance from the event, memories of the details differ. In my head we auditioned in front of a musical director who would become our teacher when we hit secondary school. I'm told by other performers in the concert that was nonsense.
What no-one disputes is that the man in charge of the concert smiled benignly at my two pals and put his thumbs up. "You two are in," he said happily. "And as for you speccy… If you insist on taking part you'll just have to stand there and mime."
To be fair, I'm not 100 per cent sure he used the word "speccy". I just threw that in to make you hate him a tiny fraction as much as I did (and shamefully still do, although he's been dead for years). 
And so it was that I was relegated to the chorus line, moving my lips noiselessly while my pals stole the show (actually, that's not quite true either) and girls looked at me with eyes full of pity. Or at least those girls not sneering or laughing or worse.
It was right then and there that I decided never to sing again. Not in the church over the few remaining years my father continued to insist I attend every Sunday. Not at family gatherings when my aunts made everyone cry with Danny Boy and my uncle serenaded his wife with And I Love You So. Not at weddings, or funerals, or drunken work parties. Not at Burns suppers, when I'd time a smoke or a visit to the toilet to coincide with the traditional climax of Auld Lang Syne. I never, ever sang. Eventually the very thought made me want to vomit.
Fast forward 42 years to a meal with a friend at a deli in Glasgow's west end. So what, she asked, are you going to do now that you've left full-time editing at the Sunday Herald and The National? Mmmm, I thought but didn't say – that's a very good question.
What I found myself saying was that actually I'd always wanted to sing but this teacher had put me off for life and now I'd really, really like to prove him wrong."